M8/M12 Connectors and Cable Assemblies
MJM Industries is a leader in the design and manufacture of custom wire harnesses, cable assemblies, over-molded cable assemblies, over-molded parts, potted components, flat flex, and coax cable assemblies. Our engineering team and customer relationships drive the continuous development of our product offerings.
As part of our standard overmolded connector products, MJM Industries offers both standard and custom M8/M12 cable assemblies for customers who need flexibility to meet their application requirements.
Benefits of our M8/M12 Cable Assemblies
At MJM Industries, our goal is to exceed our customers' expectations with high-quality and customizable M8/M12 assemblies to make sourcing these vital components as simple as possible.
Our innovative branded M8/M12 assemblies offer:
Customized B-sided connectors

 

PVC and PUR UL jacketed cable
Shielded and unshielded
Lengths in 1" increments
Finger grip
Private labeling
Short lead times at a competitive price
B-Side customizable options include:
Blunt-cut cable end
Flying lead cable end
D-sub
RJ11
RJ45
USB 2.0
Molex Mini-Fit
Din style valve connector
SAE connector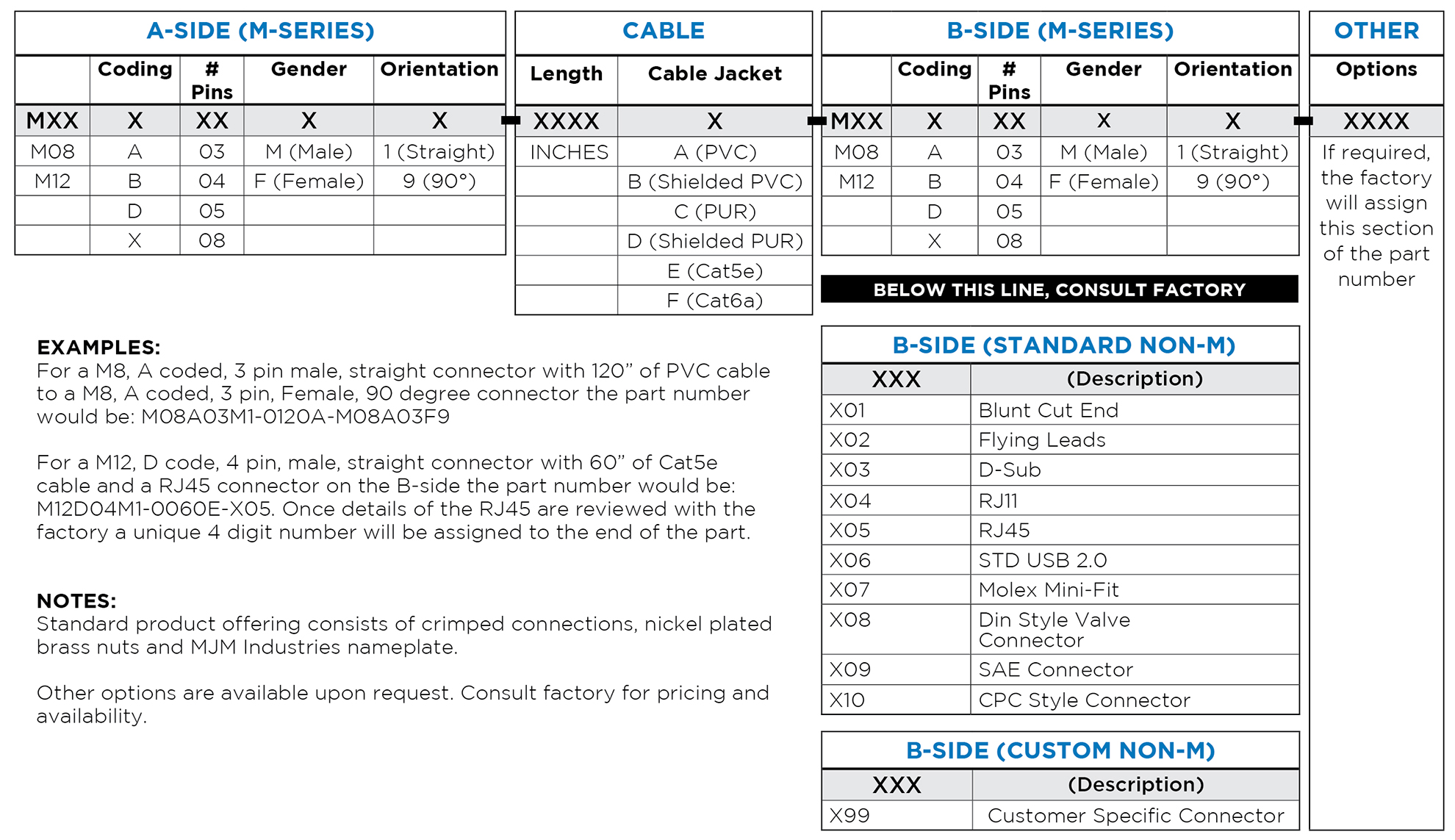 Choose MJM Industries for Your M8/M12 Connectors
Connect with our team of engineers and production personnel to receive in-depth education on our equipment capabilities and M8/M12 connectors.
Contact us today to experience our intelligent engineering and innovative manufacturing capabilities with M8/M12 connectors.

Our Experience
No task or request is beyond what we've probably already experienced.
Our Experience
MJM Industries has produced millions of wire harnesses and cable assemblies that have made their way into thousands of products around the world.

Our Quality
We stand behind every assembly that leaves our facility.
Our Quality
You can rest assured that your project is exactly what you expect. We don't just spot check our work, but each assembly is inspected and tested for accuracy and quality.

Our Team
We've assembled a team of experts that specialize in assembly.
Our Team
From engineers, to project managers, to plant managers, our team of experts come together to provide exactly the products you're counting on.

Our Commitment
To provide our customers solutions that exceed expectations.
Our Commitment
Our daily mission is to provide our customers engineering and manufacturing solutions resulting in products and services that exceed their expectations.
As a contract manufacturer, MJM Industries offers a variety of manufacturing processes and other value added services that allow our customers to realize greater productivity and profitability. From design services to custom overmolding, cable assembly, packaging, and testing, we strive to provide a complete contract manufacturing program for customers that demand reliable assemblies with on-time delivery.
Contact Us for all your wire processing needs. Call us. Email us. Or use the form below.
We're ready to help make your job easier by providing the quality parts your company needs to keep your operation running smoothly!